Sarit and Ed D., Parents - Bar Mitzvah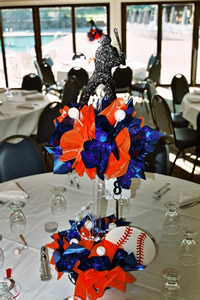 "Thank-you so much for your expertise and planning. My son's Bar Mitzvah was a great success and we felt like guests at our own event!!

Addie D., Daughter - 100th Birthday Party



"My Father turned 100 in August 2008. My brother and I wanted to throw him a very special birthday but I live in New Mexico and he lives in North Carolina. My father lives in New Haven, CT.



Kim and her staff handled all the details of the event and was not hindered by the distance between us. They coordinated the event with minimal guidance and exceeded our expectations.




The Umbrella Events staff was very courteous, helpful, knowledgeable and accomodating. They created the centerpieces and did a great job on the decor of the venue. All guests had a great time, my father enjoyed himself and our family will never forget this special Birthday."



Susan T. - Christmas Party



"As always, Kim's party was a smash! As a working mom, I simply don't have the time to manage all the details. Kim's professionalism and thoroughness ensured yet again a wonderful party and a great time had by all. Merry Christmas! Ho Ho Ho "


Hannah A., Mother of 2 Children - Children's Birthday Party



"I have two children, a girl of 9 and a boy of 5. We planned to celebrate their birthdays on the same day.



Inviting guests from different age groups and genders made the party planning very challenging. "Umbrella Events" helped to find the right person for the entertainment as well as provided on-site event management the day of the party, which was a great help. They coordinated with the vendors as well as provided help with serving the food and beverages. They were involved in the activities and helped the children have a better time. The entertainer did magic show, sang and danced, and finished the show with a bubble show. Kids of all ages had a total blast.




The "Umbrella Events" staff was so friendly with the kids. The kids felt very comfortable around them.



Our party of 45 children and adults was a success which I would like to share with everyone. I highly recommend
"Umbrella Events", and looking forward in doing business with them again."



Susan T. - Labor Day Party



"All the details from planning to clean up were managed by Umbrella Events. Kimberly was actively involved to ensure that all party-goers enjoyed the festivities. I would readily recommend Umbrella Events to any of my friends."


C. Ruggiero, Mother of 1 Child - Children's Birthday Party



"Dear Umbrella Events,



Thank you for all of your support coordinating my son's first birthday.


As a working mom, I was so concerned I would not have time to prepare and organize everything. I was a little hesitant about hiring an event planner to manage a small children's birthday but you were able to develop a custom package to meet my needs and my budget. It was so easy to provide my details and thoughts and you took care of the rest.



The location you selected was ideal and well researched - centrally located, aligned with the theme, and had great food and service at an affordable price. The on-site event management allowed me to enjoy the party without worry about the details and spend the time with my guests and more importantly my son. Everyone had an amazing time (kids and adults)!



Best regards,
C. Ruggiero"